Our Pastors
Lynn Shertzer
Lynn Shertzer has served as Slate Hill's lead pastor since 2001. He came to the church after completing his Master of Divinity degree at Gordon Conwell Theological Seminary, in Hamilton, MA.
Prior to his call to full time ministry, Lynn spent 11 years in the business world as sales manager for a manufacturing firm. He graduated from Eastern Mennonite College, Harrisonburg, VA, with a Business Administration degree. His ministry passion is preaching the truth of God in a compelling fashion. Lynn received his Doctor of Ministry in 2009 with a concentration in Preaching the Different Genres of the Bible.
Lynn's ministry is enhanced greatly by the support and encouragement of his family: His wife, Dawn, and their three children, Isaac, Lizabeth, and Noah. Lynn enjoys golfing, college football, and spending time in the mountains.
Contact Lynn: Lynn Shertzer
Joy Fasick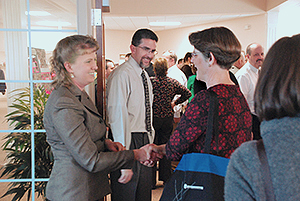 As Slate Hill's Associate Pastor of Community Life,Joy Fasick works to coordinate various types of care within our church and create links to our community. Visits, meals, and other supports during times of illness or grief, regular visitation of our senior members, and contact with our college students are all important ways that we care for each other within our church family. Joy's role involves seeking out persons within the congregation who are gifted in meeting these needs and coordinating the efforts of these people with those of our care group leaders and elders. In addition, she works with others in the church to welcome newcomers and build relationships with our neighbors.
Joy grew up in the Mennonite Church where she witnessed Christ's love enacted with care from a young age. She is a May, 2012 graduate of the Eastern Mennonite University's STEP Program (Study and Training for Effective Pastoral Ministries). Joy and her husband Mike have attended Slate Hill since 2001. They have three children, Matt, Ben, and Ellie.
Contact Joy: Joy Fasick
Upcoming Events
November 20, 2017 @ 7:00 pm
Men's Group
November 21, 2017 @ 9:30 am
Ladies Fellowship & Study
November 27, 2017 @ 7:00 pm
Men's Group
November 29, 2017 @ 5:45 pm
WNO (Wednesday Night Out)
December 1, 2017 @ 6:30 pm
Cumberland Vista Fellowship
Keep In Touch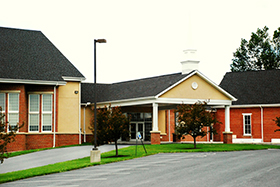 Phone:
717.737.8150
Address:
1352 Slate Hill Road, Camp Hill, PA 17011