Our Staff
Fran Leiter
Fran Leiter is the Slate Hill administrative assistant. She served in administrative positions in various companies for the past 40 years and was recently retired from the Mechanicsburg School District and the State of Pennsylvania before coming to Slate Hill.
Fran's ministry interests lie in helping others and studying Bible Prophecy. She is very conscientious in her service to the congregation and staff — mindful of Chist's example of the servant's heart.
She enjoys sewing, embroidery, baking, Bible study and spending time with her family and grandchildren.
Upcoming Events
November 20, 2017 @ 7:00 pm
Men's Group
November 21, 2017 @ 9:30 am
Ladies Fellowship & Study
November 27, 2017 @ 7:00 pm
Men's Group
November 29, 2017 @ 5:45 pm
WNO (Wednesday Night Out)
December 1, 2017 @ 6:30 pm
Cumberland Vista Fellowship
Keep In Touch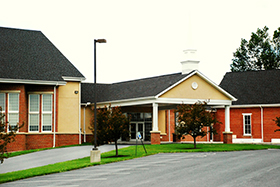 Phone:
717.737.8150
Address:
1352 Slate Hill Road, Camp Hill, PA 17011