Additional Sites
Want to learn more about who we are and what we do!
More answers to questions!
The Third Way Café is designed for conversation and comment on current, sometimes controversial topics.  It has a link to Frequently Asked Questions which answers questions you might not even think to ask.  A brief history written by one of our younger church historians describes our roots in the Anabaptist movement beginning in 1525.  We hope you will visit us at Slate Hill Mennonite Church, but you can find Mennonite Congregations in other locations in the United States and Canada.
Beliefs
While Mennonites share most foundational beliefs with other Christians, you might want to look at our Confession of Faith from a Mennonite Perspective.  We look to Jesus for salvation and as a model for how to live. We interpret the Bible His perspective.  One thing that often is listed as a distinctive of Mennonites is our commitment to peace and reconciliation.
Mission and Service
Mennonites are known for our mission and service ministries. In addition to long term partnership ministries with churches around the world there are short term programs for youth in evangelism and service and programs in church planting and relief and development.
Mennonite Central Committee – is a relief and development agency with particular emphasis on hunger, social and economic development, AIDS, and peacemaking.
Eastern Mennonite Missions – partners with churches in many countries and is supported by congregations in the eastern part of the US. Youth Evangelism Service is a program for youth.
Mennonite Missions Network– partners with churches around the world in church planting and growth. It is supported by congregations across the US and Canada. Voluntary Service is a program for youth.
Mennonite Economic Development Association– is an association of business and professional peoplewith an annual conference focusing on issues Christian business persons face. It sponsors micro enterprise development programs around the world.
Mennonite Disaster Service– responds to natural disasters with clean-up and long term recovery efforts.
Mennonite Media Ministries – works in public media. They have a video series on current topics and are a source for CD's of a cappella music!
Peace and Justice Support Network– is a network of persons and groups working for peace and justice.
Christian Peacemaker Teams– works in areas of intense conflict by nonviolently  "getting in the way" between conflicting groups.
Mennonite Foundation – is a charitable foundation that works with people of all faiths to manage money in ways that support charitable causes and reflect Christian stewardship. Also provides investment counseling and management in local offices.
Ten Thousand Villages – works with over 100 artisan groups in more than 30 countries in Africa, Asia and Latin America to market fair trade jewelry, home decor, gifts and more in retail stores.
Education
A higher proportion of Mennonites have college degrees than the general population. We sponsor a number of colleges and schools with broad offerings in liberal arts and professional degrees coordinated through the Mennonite Education Agency.
Eastern Mennonite University – Harrisonburg, VA
Goshen College– Goshen, IN
Bethel College– Bethel Kansas
Hesston College– a junior college in Hesston, KS
Bluffton College – Bluffton, OH
Eastern Mennonite Seminary – Harrisonburg, VA
Anabaptist Mennonite Biblical Seminary – Elkhart, IN
Lancaster Mennonite School  – a system of three elementary schools, a middle school and a high school in Lancaster, PA
Denominational and Conference Offices
Lancaster Mennonite Conference – Lancaster, PA
Mennonite Church USA– Elkhart, IN and Newton, KS
Mennonite World Conference – Strasbourg, France
Christian Churches Together– an interchurch organization to which Mennonite Church USA belongs
Upcoming Events
November 20, 2017 @ 7:00 pm
Men's Group
November 21, 2017 @ 9:30 am
Ladies Fellowship & Study
November 27, 2017 @ 7:00 pm
Men's Group
November 29, 2017 @ 5:45 pm
WNO (Wednesday Night Out)
December 1, 2017 @ 6:30 pm
Cumberland Vista Fellowship
Keep In Touch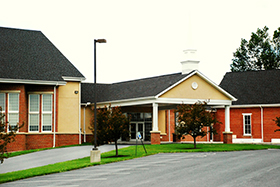 Phone:
717.737.8150
Address:
1352 Slate Hill Road, Camp Hill, PA 17011