Children
Slate Hill celebrates children in worship. Whether celebrating the dedication of a child, presenting 6th graders with a Bible, commissioning adults and youth mentor-mentee pairs, or having the children come to the front of the church for children's time, Slate Hill embraces children.
During worship, children's activity packets are available for ages 3-9. Children from age 3 up to grade 2 are invited to attend Children's Church downstairs in the common area during the 2nd half of worship. Infants to age 2 may be brought to the nursery before or anytime during worship. A cry area is available in the conference room where parents may see and listen to the service while tending to the needs of their child(ren).
Slate Hill is committed to nurturing healthy followers of Christ. Sunday School classes meet 11:00- 11:45am each Sunday. They provide a wonderful atmosphere to deepen one's faith and relationship to others.
Nursery Care (Infants to age 2) – Nursery (upstairs)
Age 3 – 5 – Room 106 (downstairs)
Kindergarten – 2nd Grade – Room 110 (downstairs)
3rd – 5th Grade Boys & Girls – Room 112 (downstairs)
Upcoming Events
November 20, 2017 @ 7:00 pm
Men's Group
November 21, 2017 @ 9:30 am
Ladies Fellowship & Study
November 27, 2017 @ 7:00 pm
Men's Group
November 29, 2017 @ 5:45 pm
WNO (Wednesday Night Out)
December 1, 2017 @ 6:30 pm
Cumberland Vista Fellowship
Keep In Touch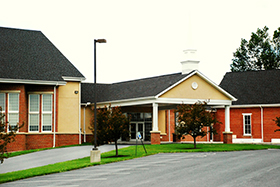 Phone:
717.737.8150
Address:
1352 Slate Hill Road, Camp Hill, PA 17011