Visitors FAQs
Slate Hill Mennonite Church welcomes visitors. Come and worship God with us and experience our hospitality. Be sure to stop at the Welcome Center for a small gift.  Here are some questions visitors have asked.
Who are the Mennonites?
Mennonites are a relatively small Protestant denomination with congregations around the world.  We share basic beliefs with other Evangelical groups, giving particular emphasis to following Jesus in discipleship, building a strong supportive faith community and living a life of peace and service. Our congregation has an attendance of about 200.
What should I wear?
Most of us dress casually as we would in casual work settings. Others dress more formally. Dress in a way that you are comfortable and you will fit right in.
How will I know where to go?
Our building is designed to make it easy to find things. We have greeters who welcome guests and who will answer your questions.
Are children welcome?
Absolutely!  There is child care for infants and younger children. Children are welcome in the worship service. Each Sunday we have Children's Church for ages 3 through grade 2.  An activity packet is available for children to help make their experience an enjoyable one. Sunday School classes are available for all ages.
Who attends?
A delightful mix of people is part of the congregation representing a wide range of income and educational levels, ages and jobs and professions.
What do you sing?
We enjoy singing.  On a typical Sunday morning we will sing hymns and gospel songs a cappella in four part harmony and more contemporary songs led by a worship team.
Where can I park?
We have plentiful parking and keep spaces for visitors open near the main door.
What is the order of worship?
Worship begins at 9:30 followed by coffee and snacks.
Visitors are welcome to stay for Sunday school which begins at 11:00.
Are Slate Hill Mennonites like Amish?
Yes and no! We share the same Anabaptist heritage and many of the same foundational beliefs, but we do not dress distinctively or live on farms. We drive modern cars,  live in modern houses and are integrated into the schools and communities where we live.
Upcoming Events
November 20, 2017 @ 7:00 pm
Men's Group
November 21, 2017 @ 9:30 am
Ladies Fellowship & Study
November 27, 2017 @ 7:00 pm
Men's Group
November 29, 2017 @ 5:45 pm
WNO (Wednesday Night Out)
December 1, 2017 @ 6:30 pm
Cumberland Vista Fellowship
Keep In Touch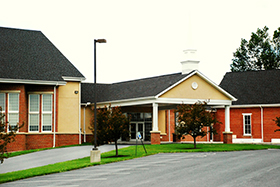 Phone:
717.737.8150
Address:
1352 Slate Hill Road, Camp Hill, PA 17011