Welcome Message
Slate Hill Mennonite is a welcoming and supportive church reaching out to members and visitors alike. Visitors to our church have described us as friendly and welcoming.
Another of our strengths is our nurturing our young people, encouraging them to become actively involved in church leadership. At Slate Hill, children and youth are accepted as valuable members of our community and encouraged to use their gifts and talents to serve God.
Music and singing, special programs, sermons, youth-led worship and children's programs are all ways that we express and experience God's presence.
Our Mennonite faith is based on close textual readings of the Christian Scriptures and that to truly know Jesus, one must follow his teachings.  The Sermon on the Mount (Matthew 5-7) receives wide attention in the Mennonite Church, including Jesus' command to love our enemies.  This has led to Mennonites actively witnessing to the way of peace at home and abroad.  Mennonites also emphasize that it is important for all Christians to live their faith.  Thus they encourage caring for one another, being in supportive spiritual community groups, living simply, serving those in need and promoting justice in all relationships.
Among the more than one million Mennonites worldwide, there are differing traditions and worship, ranging from Old Order to conservative to modern. At Slate Hill, visitors find our worship service very much like other churches.
I invite you to join us for our Sunday Worship Service or for any of our other special programs.
Pastor Lynn Shertzer
Upcoming Events
November 20, 2017 @ 7:00 pm
Men's Group
November 21, 2017 @ 9:30 am
Ladies Fellowship & Study
November 27, 2017 @ 7:00 pm
Men's Group
November 29, 2017 @ 5:45 pm
WNO (Wednesday Night Out)
December 1, 2017 @ 6:30 pm
Cumberland Vista Fellowship
Keep In Touch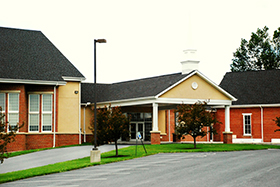 Phone:
717.737.8150
Address:
1352 Slate Hill Road, Camp Hill, PA 17011